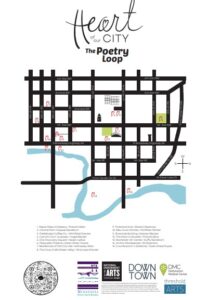 The Heart of Our City Exhibition
The Heart of Our City Exhibition runs from September 22, 2022 through October 15, 2022 at The Chateau Theater, 15 1st St SW, Rochester, Minnesota, in partnership with Threshold Arts.
This exhibition expanded to include the Heart of our City Poetry Loop, an outdoor arts experience with signs featuring the poems and photographs in this exhibition. The Poetry Loop will open at the same time as the exhibition and run through the winter. Residents and visitors can experience The Poetry Loop in small sections, or in its entire length, as they stroll through our lovely downtown. See the detailed
poetry loop map
here.
Lisa Higgs is a fiscal year 2022 recipient of a Creative Support for Individuals grant from the Minnesota State Arts Board. This activity is made possible by the voters of Minnesota through a grant from the Minnesota State Arts Board, thanks to a legislative appropriation by the Minnesota State Legislature; and by a grant from the National Endowment for the Arts. It also is partially funded by a Start-Up Event Grant from the Rochester Downtown Alliance and Destination Medical Center.

Southeastern Minnesota Poets (SEMNP) of Rochester, Minnesota welcomes poets of all ages and stages in their writing careers. We foster growth, experience, and understanding of the art of poetry through writing, reading, and discussion.
SEMNP seeks to provide poets and poetry lovers living in southeastern Minnesota with opportunities to connect, by offering meetings and workshops to share poems and hone craft, and by promoting poetry through readings, contests, literary festivals, and other poetry events. SEMNP sees education as a necessary offshoot of its mission.
SEMNP Monthly Gatherings
Second Tuesday of every month, 2–3:30 PM, at Rochester VFW
Third Thursday of every month, 6:30–8:30 PM, email us for the location
Fourth Friday of every month, 5:30-7:00 PM, email us for the Zoom link
For information, email us at poets.semn@gmail.com, or visit our Facebook Page: https://www.facebook.com/SoutheasternMNPoets.
Bright Light Stories in the Night
During the early days of the pandemic, SEMNP wanted to create a virtual event that would bring our community together despite the distance COVID created. Bright Light Stories in the Night – a virtual reading of a special e-chapbook featuring poetry by local poets illustrated by local artists – did just that.
March 4, 2022
February 26, 2021