The League of Minnesota Poets
2023 Annual Poetry Contest
SUBMISSIONS NOW OPEN!
This years contest features 23 categories of varying subjects and forms! Check out the brochure for all the details and get those poems in. Winners will be announce at our Poetry Gala held the first weekend in November. Below, you will find the links to the contest categories and the contest rules.
The League of Minnesota Poets Presents
35th ANNUAL WOODTICK POETRY RETREAT
July 20th – July 23rd
At the Chambers Cabin on Horseshoe Lake, Merrifield, Minnesota
Come back to the cabin and celebrate live poetry! Space is limited to allow for distancing. EVERYONE IS REQUIRED TO SHOW YOU HAVE BEEN VACCINATED FOR COVID more than two weeks prior to the retreat. Camping out on the property is a possibility. There are motels within 10 minutes if you prefer your own room.
Each poet should bring food and at least a thirty minute program. (Keep this a secret, you don't have to tell Sue what you are doing.) This can be a writing workshop, talk on writing forms, a reading from a famous poet. Let your imagination run wild! Be sure and bring your own poems for many sessions of "read-arounds".
Casual dress, you may be asked to deliver your program in the woods or on the beach. Bring a swimsuit and long sleeves to fight off mosquitoes in the evening. Rooms are limited, there will be no sharing of beds unless mutually agreed to. There are a number of stairs in and around the cabin. You do not need to bring linens or towels. Everyone pitches in with the cleanup.
Please let me know arrival plans and what you want to bring for your food so I can coordinate rooms and food, the earlier the better! Most participants arrive sometime on Thursday afternoon or early Friday. We ask local poets to come and go each day.
RSVP on or before July 8, 2023
BlackBerry Peach National Slam – Minnesota Qualifier Registration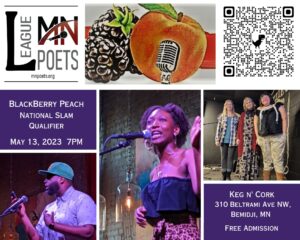 The League of Minnesota Poets is trekking north to hold their second annual BlackBerry Peach National Minnesota Qualifier Slam. This year, poets will be slamming up in Bemidji at the Keg n' Cork on May 13th for a chance to participate in the National Federation of State Poet Societies BlackBerry Peach Slam. The winning poet will receive paid entry and lodging accommodations when they compete in the National BlackBerry Peach Slam June 21 -26 in Des Moines, IA for a chance to win $2000 first place; $1000 second place; $500 third place; $250 fourth place; $125 fifth through twelfth place and the sacrificial poet will receive $100.
A special thanks goes out to Watermark Art Center for their coordination in the slam efforts.
If you would like to participate, please fill out the form linked below. Spots are limited and will be filled in order of registration, so sign up today! The League will also be coordinating ride shares for transportation as well as room sharing for lodging based on responses to the form. There is no entry fee to participate or attend.
Add to you calendar:
Richfield Nature Area Poetry Walk
Please visit our Submittable site here for all the guidelines to submit. The deadline to send your work is May 19th, 2023. Submission fees are $5 for non-league members and free to enter for members. Stop by our membership page here to sign up today!
See the results from last years contest HERE
The League of Minnesota Poets
John Rezmerski Memorial Manuscript Competition
SUBMISSIONS ARE OPEN!
Submit your poetry manuscript to the second annul John Rezmerski Memorial Manuscript Competition for a chance to win publication and $1000  in prize money! Winner will also receive 20 free copies of their book; League of Minnesota Poets will sell additional published books. Winner will be announced at League of Minnesota Poets 2023 Fall meeting and posted after the meeting online at the League website. Publication and reading by winning manuscript will be at the following League of Minnesota Poets' Spring meeting. Full submission details are outlined at the Submittable link above. Submission fee is $15 for League members and $25 for non-members.
Congratulations to Charles Gillispie, the winner of the 2022 inaugural John Rezmerski Memorial Manuscript Competition! A special thanks to Carol Clark Williams, this years judge for the competition. The Prize winning submission Ever Loyal to the Story will be available at our Spring conference in April. Here is the full list of awards by the judge.