League of Minnesota Poets presents:
Frolicking with Laureates
2023 Spring Conference
April 21 – 23rd
Best Western Plus – New Ulm, MN
The 2023 League Spring Conference will be a celebration of laureateship this year as we welcome the Minnesota Poet Laureate Gwen Westerman as our speaker. We'll also be celebrating the appointment of a new League of Minnesota Poets Laureate as well. Friday night we will also hear a reading from the inaugural winner of our John Calvin Rezmerski Manuscript Competition, Charles Gillispie. In addition to these celebrations, we'll have writing workshops from Southern Minnesota Poet chapter members Jana Bauma and Derek Leibertz, a poetry critique session with Sue Chambers and Christina Flaugher, and a Poetry Tasting by Peter Stein at Schell's brewing. Join us in celebration and a taste of the poetic flavors of Southern Minnesota has to offer!
Add to you calendar:
Vibe Check: a poetry reading across generations
Join us for a poetry reading like none other. Twin City poets of different generations will share the stage at the same time in a collaborative set. Even if you've seen these readers before…you've never seen them like this.
Featuring:
Anthony Ceballos // John Medeiros
Kathryn Kysar // Mary Moore Easter // Ashley Richardson
Mark Ehling // Mollie Lacy // Eric Tu
   THURSDAY, APRIL 6, 2023 AT 7 PM at Open Book
Richfield Nature Area Poetry Walk
Please visit our Submittable site here for all the guidelines to submit. The deadline to send your work is June 15th, 2023. Submission fees are $5 for non-league members and free to enter for members. Stop by our membership page here to sign up today!
See the results from last years contest HERE
The League of Minnesota Poets
2022 Annual Poetry Contest
Checks are in the mail!
Thank you for your patience! The checks and certificates are in the mail. If you are on the winners lists, you should be receiving them shortly. We will contact you if any are returned due to mailing issues.
Congratulations to all who participated. We had a blast hearing the winning poems by attendees, so we hope you join us next year and have your name called to read your prize poems at next years Gala! Click below for the complete list of winners to see how your poems faired. Certificates and checks will be mailed off in the coming weeks, so keep an eye on your mailboxes.
The League of Minnesota Poets
John Rezmerski Memorial Manuscript Competition
RESULTS ARE IN
Congratulations to Charles Gillispie, the winner of the inaugural John Rezmerski Memorial Manuscript Competition! A special thanks to Carol Clark Williams, this years judge for the competition. The Prize winning submission Ever Loyal to the Story will be available at our Spring conference in April. Here is the full list of awards by the judge.
FIRST PRIZE: Charles Gillispie — Ever Loyal to the Story
1st Honorable Mention: Jana Bouma — Spinning the Stone
2nd Honorable Mention: Peter Stein Pure — Land Blues
3rd Honorable Mention: Sandra Lindow — Defining Fire Physics
4th Honorable Mention: Susan Campbell — A Small Life
5th Honorable Mention: Lena Zycinsky — Dark Night, Where is Your Daughter
6th Honorable Mention: Terry Drake — Regarding Fire
7th Honorable Mention: Terry Miller — Log Entries
8th Honorable Mention: Gwen Hart — Never Be the Same
Judge: Carol Clark Williams, Pennsylvania.
Carol Clark Williams was the winner of the NFSPS, Inc. Barbara Stevens Manuscript Competition in 2022 for her book Unpacking For the Journey. She was third poet laureate of York, Pennsylvania. Her work has won state, local and national awards, and she is widely published online and in print. She is a Pushcart nominee and a rostered artist for PA's Arts in Education Program.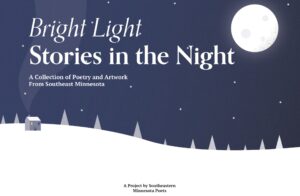 Bright Light Stories in the Night is a virtual, family-friendly arts program where local celebrities — Natalia Benjamin, Guthrie Capossela, Amina Hasan, Samuel Hawkins II, Thalia Kohler, Laura Maciejko, Pasquale Presa, and Sgt. Jean Valere — will read six winning poems from that have been illustrated by local artists and incorporated into an e-chapbook. Two honorable mention poets and artists will also featured at this virtual event.
This year's e-chapbook features local writers James Armstrong, Emilio DeGrazia, DE Green, Scott Lowery, Steven McCowan, Jean Prokott, Anne Shea, and Steven Vogel and local artists Janie Allen, Rachel Brokenicky, Muhammad Khan, Christie Nicklay, Layne Noser, Sheila Perry, Debb Peterson, and Daniel Veddamuthu.
This year's Bright Light Stories in the Night will reach "from polestar to terra firma" – bringing us all together as we wait for the end of the winter season.
Winning poems and illustrations will also be on display at the SEMVA Gallery throughout March 2022. Join us for the exhibition opening at SEMVA on Saturday, March 5 at 2 p.m. to meet poets and artists involved in this project. SEMVA is located at 320 S. Broadway in Rochester, MN.