The League of Minnesota Poets Presents:


Coalescence
2022 Fall Poetry Conference
Arrowwood Resort in Alexandria, MN
November 4th – 6th
Take in the poetry of the fall air at this year's conference in Alexandria Minnesota. The Arrowwood promises to provide a warm atmosphere for immersing in poetry. Click the link above and call to reserve a room with our special room rates. Book by October 14th to ensure that you receive the discounted rate.
STAY TUNED FOR MORE DETAILS!
Richfield Nature Area Poetry Walk
Please visit our Submittable site here for all the guidelines to submit. The deadline to send your work is June 15th, 2023. League membership is required to enter. Stop by our membership page here to sign up today!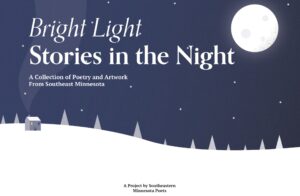 Bright Light Stories in the Night is a virtual, family-friendly arts program where local celebrities — Natalia Benjamin, Guthrie Capossela, Amina Hasan, Samuel Hawkins II, Thalia Kohler, Laura Maciejko, Pasquale Presa, and Sgt. Jean Valere — will read six winning poems from that have been illustrated by local artists and incorporated into an e-chapbook. Two honorable mention poets and artists will also featured at this virtual event.
This year's e-chapbook features local writers James Armstrong, Emilio DeGrazia, DE Green, Scott Lowery, Steven McCowan, Jean Prokott, Anne Shea, and Steven Vogel and local artists Janie Allen, Rachel Brokenicky, Muhammad Khan, Christie Nicklay, Layne Noser, Sheila Perry, Debb Peterson, and Daniel Veddamuthu.
This year's Bright Light Stories in the Night will reach "from polestar to terra firma" – bringing us all together as we wait for the end of the winter season.
Winning poems and illustrations will also be on display at the SEMVA Gallery throughout March 2022. Join us for the exhibition opening at SEMVA on Saturday, March 5 at 2 p.m. to meet poets and artists involved in this project. SEMVA is located at 320 S. Broadway in Rochester, MN.