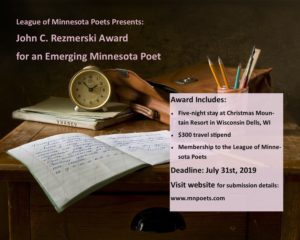 *SUBMISSIONS ARE CLOSED*
The League of Minnesota Poets is hosting an Emerging Poets award to advance the support and development of Minnesota poets by granting an emerging poet from Minnesota dedicated time and space to work on their writing. This award is in honor of the late John Calvin Rezmerski, who exemplified the mission of the League of Minnesota Poets throughout his career as a poet by encouraging, cultivating, and supporting poets.

Submission Requirements:
• Writers MUST CURRENTLY RESIDE IN MINNESOTA, and have been a resident of the state for at least the previous year prior to the application deadline.
• The applicant must not have a full-length collection of poetry previously published. Self-published books and chapbooks are acceptable.
Additional Expectations:
• Provide an hour-long poetry workshop for the League of Minnesota Poets or one of its chapters.
• Participate in a reading highlighting the project that was worked on.
Award Includes:
• Five-night stay at Christmas Mountain Resort in Wisconsin Dells, WI. The facilities have a kitchen and laundry in the unit. The week of the stay will be selected by the writer based on availability at the resort as well as the schedule of the writer during the winter/spring of 2019-2020.
• A $300 travel stipend.
• A membership to the League of Minnesota Poets.
Application:
Submission Deadline is July 31st 2019.
Submit a cover letter including a bio, description of the what you plan to work on, and the titles of the pieces submitted in the artistic sample. Please include how this experience will impact your writing career. In a separate file, submit an artistic sample of up to 10 pages. This file should contain no contact info on the sample submission. The judging will be blind. Winner will be announced at 2019 Fall Poetry Conference on October 25th-27th.
Judging: The judge for this award will be Philip S. Bryant. Philip S. Bryant, a native of Chicago, is the author of three pervious collections of poetry—Blue Island, Sermon on a Perfect Spring Day, and Stompin' at the Grand Terrace: a jazz memoir in verse, with music by Carolyn Wilkins. His work has appeared in Blues Vision: African American Writing from Minnesota; Good Poems, American Places, selected and introduced by Garrison Keillor; and Where One Voice Ends Another Begins: 150 Years of Minnesota Poetry. Selections from Stompin' at the Grand Terrace were chosen by Los Angeles Times Music Critic Ann Powers to appear in Best Music Writing, 2010. He was a fellow of the Minnesota State Arts Board in 1992 and 1998, and has served on the governing board of the Loft, the premier literary arts center in the Twin Cities. He has worked with the Givens Foundation as a mentor for emerging Minnesota African American writers. He was a radio-essayist for Minnesota Public Radio and is currently professor of English at Gustavus Adolphus College. He lives with his wife, Renée, in St Peter, Minnesota.