Pavement
Here I stand, or maybe sit,
Altogether prim and fit.
Whatever happened to yesterday?
You were here, but could not stay.
Remember, memories are to share,
So take a breath of this fresh air.
Pavimento
Aquí me paro, o tal vez me siento
Totalmente remilgado y apto.
¡Qué rápido vi el ayer pasar!
Estuviste aquí, pero no te pudiste quedar.
Recuerda, los recuerdos son para contar
Así que toma un respiro de este aire fresco.
~ These poems were translated by Maria Lander Cabrere and Eileen LaFontaine. They were narrated by Maggie Gagliardi and Alejandra Camacho.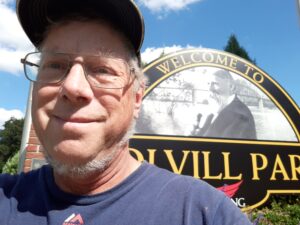 Dave Anderson, born in Seattle, Wash. in 1954, attended Two Rivers High School and Hamline University in the Twin Cities. He lives in Arden Hills, MN. He is a trumpet/flugelhorn player, and also an avid singer. Several canoe trips in his teenage years and since have endeared him to nature."