Earth Dance
If you pay attention
really look and listen
you can see the earth dance.
Delicate flowers do-si-do
to the songs of the wind.
Trees intertwine their limbs
and slow waltz together in time
to the beat of the seasons.
The sun tangos across the sky
splashes rose water
as she sways away
at the end of the day.
Danza de la Tierra
Si prestas atención
realmente miras y escuchas
puedes ver bailar la tierra.
Flores delicadas bailan
al canto del viento.
Los árboles entrelazan sus ramas
y bailan un vals lento juntos en el tiempo
al ritmo de las estaciones.
El sol baila el tango cruzando el cielo
salpica agua de rosa
mientras se mece
al final del día.
~ These poems were translated by Maria Lander Cabrere and Eileen LaFontaine. They were narrated by Maggie Gagliardi and Alejandra Camacho.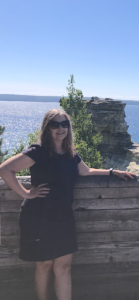 Laura Kozy Lanik  currently teaches High School Social Studies in Minneapolis, Minnesota.  Laura is the co-creator and co-editor of Upon Waking. 58 Voices Speaking Out from the Shadow of Abuse poetry anthology published in April of 2019. Her writing has been published in the Minnesota Women's Press, Book Women, The Fem, MPR classical Radio, Origami Kindness Anthology 2020 and HerWords. You can find more of her poetry on her poetry blog at www.buymeacoffee.com/laurakozylanik